David Ira Cleary
Welcome to my little piece of cyberspace.
I'm a technical writer, sometime computer programmer, and author of twenty-four published short stories as well as five as-yet unpublished novels. Some of what I write is science fiction, and some of what I write is just strange. One of my stories, "All Our Sins Forgotten," was adapted in 1998 into an episode of the Sci-fi Channel's series Welcome to Paradox.
My big news is that I have a huge novella in the current issue of Asimov's Science Fiction Magazine: "Living in the Eighties." You can find it in the April/May 2012 issue of the magazine. If they ever gave out prizes for having the longest stories in a magazine or an anthology, I think my house would collapse under the weight of the accumulated trophies.
Publications A Sample Short Story
News! My beautiful and athletic wife Cheryl ran the Oakland Marathon on March 25th. She ran the marathon in a very respectable four and a half hours, which is very good considering how hilly the course is.
Older News!
I got married! Read more about this at:
Below is a picture of me with my cat, Quincey. Quincey fetches, bites, and serves me as a constant source of inspiration. Note also the alternative newsweekly I'm holding, to establish my credentials as an Artist. Unfortunately, Quincey passed away a while ago, and I must content myself with a brother-sister pair of kittens, who are awfully damn cute, but seem on a mission to scalp and/or flay me.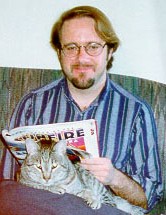 If you'd like to hire me to write some technical documentation for you, or you are yearning to have me write a story for your anthology, or you'd just like to shoot the breeze, you can contact me at my gmail address.